2017 Nissan Armada
The full-size Armada has been a staple in the Nissan brand lineup since 2004. The large SUV shares the same body-on-frame construction platform as the rugged Nissan Titan pickup truck, and has been a major contender in this competitive segment for the past thirteen years. Currently in its second generation, Nissan has proven that the Armada is able to stand up on its own two feet without needing constant revamping to stay relevant.
The 2017 Nissan Armada was introduced by the Japanese automaker at the Chicago Auto Show in early 2016. The redesigned full-size SUV went on sale in May of that same year, and has enjoyed enormous success in the several months that have followed its release. Packing plenty of what traditional SUV enthusiasts crave without having to sacrifice family practicality, it's easy to see why the newest Armada is being touted as the best. Michael Bruce is the VP of Nissan North America and reiterated this fact in a statement on the day the brand released the next-gen Armada: "While the new Armada is intended primarily for family adventures here in North America, Armada owners will benefit from its underpinnings as a strong, durable and authentic SUV with ruggedness to spare."
8,500 lbs
Towing Capability
Size and Design
Every square inch of the 2017 Armada was redesigned for comfort, convenience, and ultimate capability. To kick off the full-size SUV's second generation, Nissan pulled out all of the stops. Thanks to intense revamping, the 2017 Armada now boasts best-in-class second row headroom and legroom without sacrificing room for those third-row passengers. All three trim levels of the 2017 Armada come with standard seating for eight passengers, while Platinum models are offered with the optional second row captain's chair package which brings seating down to seven. A total interior volume of 171.1 cubic-feet coupled with that best-in-class second row headroom and legroom, the 2017 Armada is as spacious as it is capable. Second row bench seating splits 60/40 and easily tilts for ease of access to the third row of seating. For drivers who appreciate convenient flexibility options, the 2017 Armada is offered with optional power third-row fold down seating and a power liftgate. With a simple touch of a button, the third row of seating disappears underneath the floor and allows for maximum cargo storage capacity. Under floor storage in the cargo area offers even more room for your valuables, along with the flexibility the second generation of the Armada is known for providing.
The exterior of the Armada also got a much-deserved face lift, complete with a new muscular grille, side chrome air vents, and LED head- and tail-lights. Capturing the attention of everyone who passes by, the 2017 Armada is truly an SUV worthy of every ounce of praise it receives. Drivers can create a truly unique Armada with available 20-inch wheels, roof rail cross bars, and other endless options aimed at pleasing both the driver as well as everyone in his or her path. At the end of the day, the 2017 Armada is everything we have been wanting out of Nissan's full-size SUV, and so much more.
Power and Capability
A full-size SUV like the 2017 Armada is worth much more than what meets the eye. As sleek and sexy as this newly redesigned SUV is, what lies underneath the hood is the most impressive part of the second generation Nissan Armada. Boasting a standard 5.6-liter direct injection V8 engine, the 2017 Armada stands tall in its segment with a class-leading standard horsepower rating of 390. In a near perfect match, the Armada also features 394 lb.-ft. of torque that helps deliver a seamless "get-up-and-go" performance. An engine that powerful deserves to be bragged about – which is why Nissan made it standard on all three of the 2017 Armada trim levels. Paired to a standard seven-speed automatic transmission with a Tow/Haul mode, it's easy to see why the 2017 Armada gets so much attention in this increasingly "careful" vehicle segment.
A best in class horsepower rating deserves a towing capacity to match, and the 2017 Armada delivers. Besting every other full-size SUV on the road when it comes to this all-important specification, the latest Nissan Armada has a standard towing capability rated at 8,500 pounds. The Toyota Sequoia is the next best thing when it comes to towing, but still manages to fall short by over 1,000 pounds compared to the Armada. The other guys want you to pony up more dough in order to get incredible towing capabilities – but not Nissan. With the newly redesigned Armada top notch power isn't an option – it's mandatory.
Drivers have the option to choose between 4×2 capability or Nissan's responsive all-wheel drive system. Both of these deliver ultimate everything, along with the best-in-class power and capability that the new Armada is now known for. If you need a family SUV that doesn't just look awesome but also delivers incredible power, the Armada is sure to impress.
Interior Amenities and Technology
Nissan doesn't just offer a full-size SUV with plenty of power and interior room, but goes one step further by including the latest technology and upgraded interior appointments. The Armada is poised as one of the few luxury full-size SUVs that isn't manufactured by a premium car brand. Nissan has fine tuned the 2017 Armada to deliver ultimate on-board luxury, style, amenities, and of course – the latest in-vehicle technology. Drivers who value premium luxury in their family SUV will appreciate optional leather-appointed seating surfaces that are meticulously crafted for ultimate comfort and aesthetic appeal. Available wood trim and metallic accents provide an added layer of luxury, along with the advanced precision controls that are incorporated into the SUV's front row.
As luxurious as the Armada can be, Nissan made sure to incorporate premium features as standard fare wherever possible. The SUV comes standard with a 13-speaker Bose premium sound system that no other vehicle in this segment offers without a hefty price increase. The optional rear seat entertainment system offers passengers the ability to play games and watch movies with wireless headsets on screens built into the headrests. An eight-inch touch screen navigation system with Voice Recognition and Birdview capability comes standard on all three Armada trim levels, transforming your commute into an enjoyable and productive experience. Both the driver and front seat passenger will enjoy the standard eight-way power and heated seating with adjustable lumbar support. The 2017 Armada comes standard with hands-free phone Bluetooth connectivity, USB ports, four 12-volt DC power outlets, and a RearView Monitor system. While other car brands are guaranteed to nickel and dime their way into your hearts, Nissan stands firm in their resolve to offer more standard features on the Armada than any other competitor.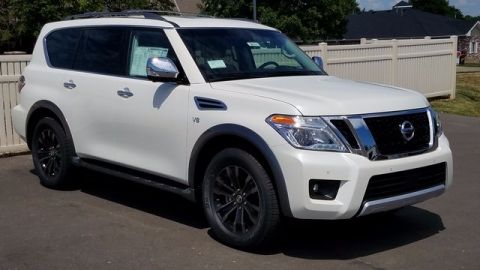 Explore Payment Options
Compare and Save Real-Time Bank Offers
Customize Your Monthly Payment
Get Instant Trade-In Estimate
Price and Availability
The 2017 Nissan Armada starts at $44,900 for the base SV model, while the high-end Platinum trim starts at $57,590. Packing plenty of interior amenities and high-end touches, it's easy to see why the newly redesigned Armada is getting so much attention.
The second generation Armada is now available at Nissan dealerships nationwide, so be sure to check out this premium full-size SUV in person. There is nothing quite like slipping behind the wheel of this versatile, powerful and capable SUV that is redefining our perception of this vehicle segment. Loaded with standard features that no other competitor includes without a substantial price increase, the 2017 Nissan Armada is a must-see SUV option for your active family on the go.
The only way to fully appreciate everything that the 2017 Nissan Armada has to offer is to take it for a test drive. Rolling Hills Nissan has various new 2017 Armada sedans in stock, waiting for you to take on a test drive. Come down to Rolling Hills Nissan and discover what you have been missing, by taking this sporty sedan for a test drive, today.